| | |
| --- | --- |
| Building log - Articles les plus récents | |
---
---
---
07-Apr-2011
J'ai aussi installé les feux de navigation et les strobes sur les saumons d'aile. Cela permet de vérifier le montage.
J'ai deux montages différents, à  gauche avec une plaque d'aluminium qui couvre le fond et sur la droite un montage direct sur le saumon. On verra plus tard lequel choisir.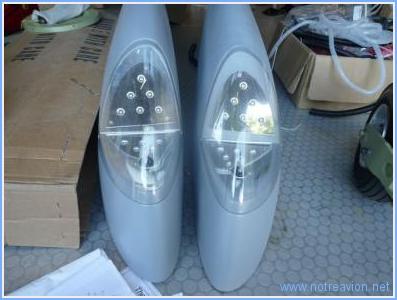 Temps de travail sur le sous-ensemble
Aujourd'hui : 1h (Total : 25h)
Lectures (2976)
25-May-2010
After having filled the small pinholes, the tips get a second coat of primer.
Working time on this subpart
Today : 2h (Total : 24h)
Lectures (2777)
22-May-2010
I fist wanted to glue all the markins on the panel extension, but the paint was somewhat scratched so I first had to spray a new coat.
As all the painting equipment was out, I also primed the wingtips. There are a few pinholes where the two halves meet, but nothing some filler and another coat of primer can hide.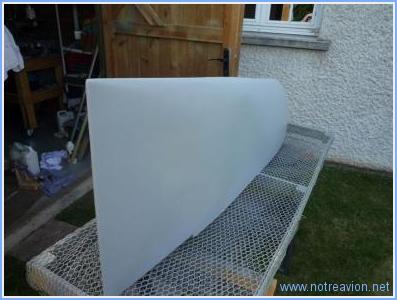 Working time on this subpart
Today : 2h (Total : 22h)
Lectures (2685)
29-Apr-2010
After some sanding, another small filling session, there wer only some minor defects left. I think both wintips are almost ready for paint.
Working time on this subpart
Today : 1h (Total : 20h)
Lectures (2769)
28-Apr-2010