| | |
| --- | --- |
| Building log - Articles les plus récents | |
---
---
---
22-Sep-2009
The spinner installation is a small project by itself. First the cutouts for the propeller blades are made. There is a template on the [b]
Sensenich
[b] webiste(Thanks Hervé).
I first make a conservative cut and go on from there by small itérations.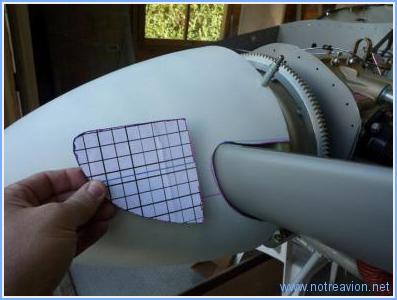 Before finishing all the drilling, the little contraption helps verifying that the spinner is turning true. Then all the remaining holes are drilled. The cutouts then get fine tuned.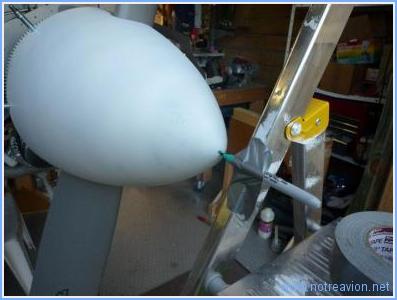 The spinne installed but quite some work left : installing the nutplates, drilling to the correct diameter, finishing the forward plate installation.
Working time on this subpart
Today : 3h (Total : 5h)
Lectures (1230)
21-Sep-2009
I have some help staying at home, so we decided to tackle some work easier to do being two.
We store the canopy and take the propeller out.
First thing is to install the extension on the prop. This is no easy task without a press. We tried the rivet gun, then a small hammer and finished with the 5lbs hammer suggested by Sensenich..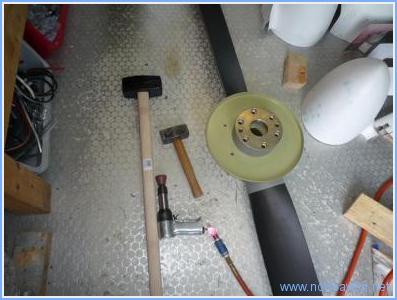 Then the prop got bolted to the crankshaft. Muy dad, the helper seems quite satisfied with the result. We still have to clock it properly, install the forward flange and spinner.
Space is beginning to be scarce, we had to remove the door handle to be able to close the workshop.
Working time on this subpart
Today : 2h (Total : 2h)
Lectures (1085)
08-Nov-2007
The propeller has been ordered at the same time as the finishing kit. For simplicity and cost reasons, it is a fixed pitch metal Sensenich propeller specially developped for Vans planes.
Lectures (1358)