| | |
| --- | --- |
| Building log - Articles les plus récents | |
---
---
---
04-Dec-2011
We are still wainting for the weather to improve to make the first flight. Withe Sabine we spent one hour at the hangar, mainly to fill up the fuel tanks as the airclub was open today. I still have no card for the automatic pump.
Sabine taxied in the plane for the first time, and after taht we noticed some oily residue on the front leg. We took the cowling of and there must have been some oil or fuel in the airbox. We will monitor that.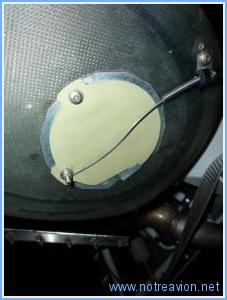 Working time on this subpart
Today : 1h (Total : 117h)
Lectures (1803)
25-Nov-2011
Today I finsihed assembling the plane for the first flight.
All is now ready, we just have to wait for the weather to be suitable at the same time the pilot is available.
To show the flight progresses, the website changes a bit. There is a new block on the first page and a new menu item "In flight"
Working time on this subpart
Today : 2h (Total : 116h)
Lectures (1775)
23-Nov-2011
I first installed the throttle hardware and now I have full travel from idle to full power.
I did some minor work on the air inlets on the lower cowl.
I also worked on the brakes and after a taxy test it seems my rpoblem is solved.
Working time on this subpart
Today : 3h (Total : 114h)
Lectures (1616)
16-Nov-2011
Today I installes the engine cowls and taxied with everything buttoned up. I found the plane wants to turn left, I couldnot troubleshoot but think it has to do with the braking system.
I also have a problem with the throttle throaw as I don't have enough throw to go from the idle to full power stops.
The good news is that everything seems to be working with the cowls on.
Working time on this subpart
Today : 3h (Total : 111h)
Lectures (1681)
05-Nov-2011
Today I began by reinstalling the fairings and covers after the inspection. I alos corrected the small discrepancies that had be noted.
I managed to do the first taxi. The engine started flawlessly and taxying was straightforward. Turning is possible with a smal radius and at low speed.
Video is unfortunately usable.
Working time on this subpart
Today : 3h (Total : 108h)
Lectures (1823)