| | |
| --- | --- |
| Building log - Articles les plus récents | |
---
---
---
02-Oct-2009
I first mask the parts that sould not get any paint, before spraying one coat of primer. There are still some small flaws, they will be taken care of before final painting.
Some of the parts.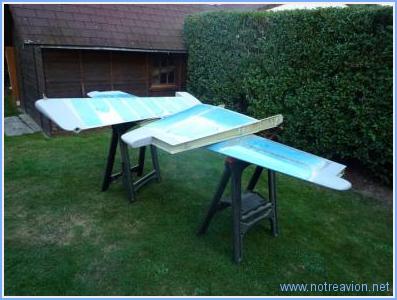 And the remainder, I still have to prime the spinner and the wingtips.
Working time on this subpart
Today : 3h (Total : 65h)
Lectures (2738)
01-Oct-2009
Today should be a sunny day, and as all the painting stuff is out, I will apply a coat of primer on the empennage tips.
All teh aprts got taken out of storage, cleaned and lightly sanded. Tomorrow I'll spray them after some masking.
Working time on this subpart
Today : 1h (Total : 62h)
Lectures (2918)
21-Oct-2008
16-Oct-2008
12-Oct-2008
If only epoxy was as easy to sand as the primer, those tips would be stored now.
In one hour I got all seven tips sanded and the defects marked. There are not that many, sometimes just an isolated pinhole. The worst part is the lower rudder tip and the parts perpendicular to the control need also to be worked upon.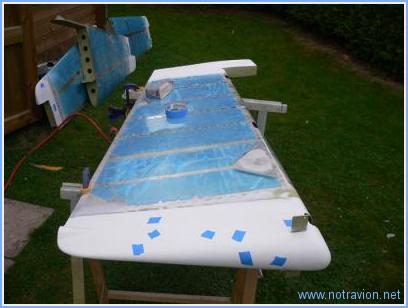 Working time on this subpart
Today : 1h (Total : 59h)
Lectures (2990)