| | |
| --- | --- |
| Building log - Articles les plus récents | |
---
---
---
03-Nov-2009
Before doing the final firewall forward install, the propeller has to come off. I also have to squeeze one last rivet on each gap filler. Having tried a few tricks, I had no luck with my pneumatic squeezer, maybe a manual squeezer would have worked. So I installed a Cherrymax rivet.
Working time on this subpart
Today : 2h (Total : 19h)
Lectures (2841)
20-Oct-2009
19-Oct-2009
I removed the spinner and sanded everything. Some small problem areas had to be filled. When everything is cured, and after a light sanding, I should be able to apply a last layer of primer.
The picture shows the shoulder created inside the spinner.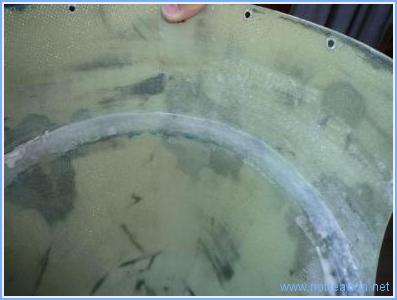 Working time on this subpart
Today : 1h (Total : 16h)
Lectures (2841)
14-Oct-2009
I'm not happy with the results after the proseal has cured. So I removed everything and do a new small shoulder with epoxy and flox. It's harder than proseal, but will be easier to sand to make small adjustments.
Working time on this subpart
Today : 2h (Total : 15h)
Lectures (2953)
09-Oct-2009
The proseal trick did not work as expected. Before redoing it, I install the nutplates for the six screws that go from the spinner to the forward plate. It's the usual drilling, deburring, countersinking and riveting sequence.
I then apply a new layer of proseal hoping for better results.
Working time on this subpart
Today : 2h (Total : 13h)
Lectures (2847)