| | |
| --- | --- |
| Building log - Articles les plus récents | |
---
---
---
30-Apr-2012
The last few days, I went on with the wheel fairings repairs. As usual with fiberglass it's only filling and sanding.
Today I shot a thin layer of primer and there still are some small areas needing attention. But I should be done tomorrow.
With some luck, we will have nice weather tomorrow and be able to get out for a small flight with or without the fairings.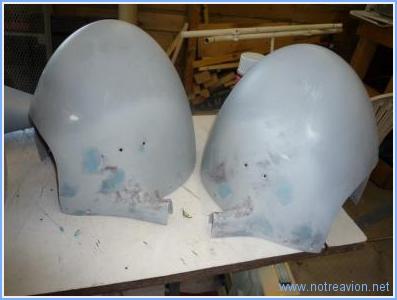 Working time on this subpart
Today : 8h (Total : 139h)
Lectures (2228)
21-Apr-2012
Last time I was at the hangar, I uninstalled the wheel fairings and today I began the repair.
I first sanded around the cracks and glued everything back together adding one layer of fibercloth. I'll add a few more layers next time.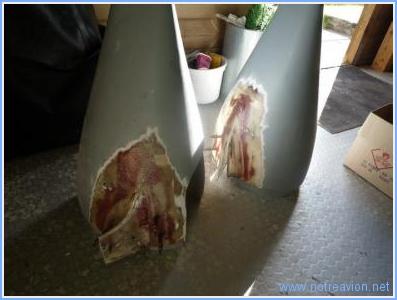 I also noticed that I had forgotten to make a nice filet inside the fairing which didn't help in my case. I added the filet and included a layer of fiber cloth.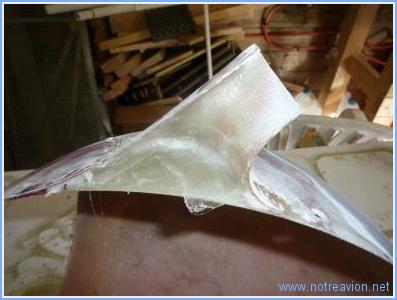 Working time on this subpart
Today : 4h (Total : 131h)
Lectures (2385)
10-Mar-2012
03-Mar-2012
Today I installed the wheel fairings, it took a bit longer than expected as I had to widen the gap between the tire and the fairing.
I still have to install the gear leg fairings before resuming flight testing. I hope to gain a few knots on the top speed.
Working time on this subpart
Today : 4h (Total : 124h)
Lectures (2029)
28-Jan-2012
Bad weather, so no flight. I did some small tasks by installing the fuel pump shroud, trying to find why the OAT is not working (maybe a faulty D-sub). I noticed that one nutplate under the right floor needs to be replaced. I finally begun installing the wheel fairings.
Working time on this subpart
Today : 3h (Total : 120h)
Lectures (2097)