| | |
| --- | --- |
| Building log - Articles les plus récents | |
---
---
---
24-Nov-2010
There are still a few items to install on the panel, among them the engine controls.
From left to right : the throttle, the mixture and the alternate air.
The other ends have been secured on the engine side.
The cables have to be secured via clamps to the subpanel. Easier said than done as drilling and riveting behind the panel is all but easy.
The picture shows the three clamps for the three cables.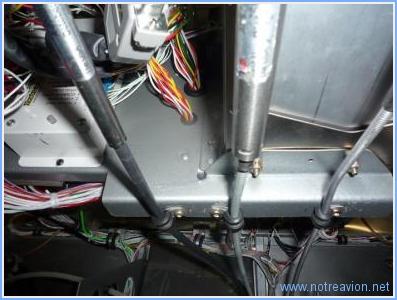 Working time on this subpart
Today : 3h (Total : 115h)
Lectures (2829)
13-Sep-2010
I go on trying to tidy up the wire harnesses. I have to install platenuts (hence drilling, dimpling....), make some small brackets a lot of small time consuming tasks.
This show the left side between the firewall and the subpanel.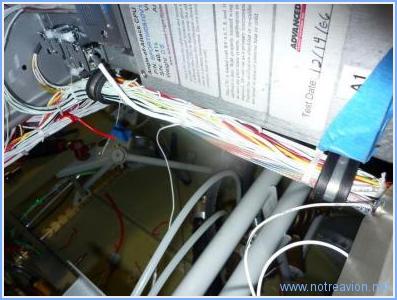 This is behind the subpanel, not finished yet.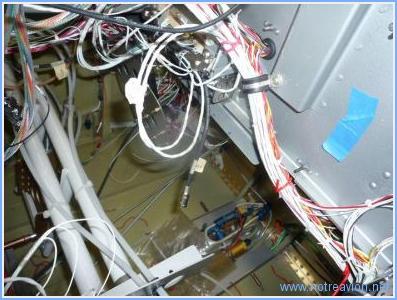 Working time on this subpart
Today : 3h (Total : 199h)
Lectures (2943)
11-Apr-2010
The nav antenna is to be installed in the left wing tip. The antenna is resting on the bottom of the tip. Per plans, the part facing the opening of the tip should be in direct contact with the sing structure, but it's not possible as the tip slides into the wing. So the contact will be made via the the four screws, if it does not work, adding a connection media won't be that difficult.
For the time being I installed a small length of coaxial cable, just to test how to install the terminals.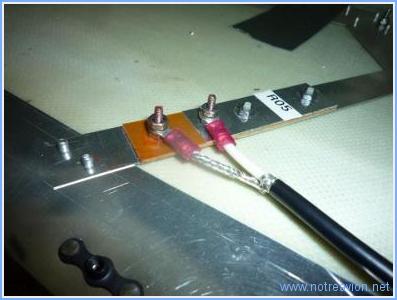 Working time on this subpart
Today : 2h (Total : 64h)
Lectures (2887)
14-Mar-2006
The two empennage boxes are inventoried and everything is accounted for.
Lectures (3440)
09-Mar-2006