| | |
| --- | --- |
| Building log - Articles les plus récents | |
---
---
---
03-Mar-2012
Today I installed the wheel fairings, it took a bit longer than expected as I had to widen the gap between the tire and the fairing.
I still have to install the gear leg fairings before resuming flight testing. I hope to gain a few knots on the top speed.
Working time on this subpart
Today : 4h (Total : 124h)
Lectures (3433)
28-Jan-2012
Bad weather, so no flight. I did some small tasks by installing the fuel pump shroud, trying to find why the OAT is not working (maybe a faulty D-sub). I noticed that one nutplate under the right floor needs to be replaced. I finally begun installing the wheel fairings.
Working time on this subpart
Today : 3h (Total : 120h)
Lectures (3811)
04-Dec-2011
We are still wainting for the weather to improve to make the first flight. Withe Sabine we spent one hour at the hangar, mainly to fill up the fuel tanks as the airclub was open today. I still have no card for the automatic pump.
Sabine taxied in the plane for the first time, and after taht we noticed some oily residue on the front leg. We took the cowling of and there must have been some oil or fuel in the airbox. We will monitor that.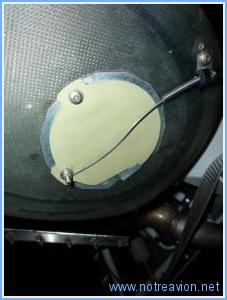 Working time on this subpart
Today : 1h (Total : 117h)
Lectures (3126)
25-Nov-2011
Today I finsihed assembling the plane for the first flight.
All is now ready, we just have to wait for the weather to be suitable at the same time the pilot is available.
To show the flight progresses, the website changes a bit. There is a new block on the first page and a new menu item "In flight"
Working time on this subpart
Today : 2h (Total : 116h)
Lectures (3116)
23-Nov-2011
I first installed the throttle hardware and now I have full travel from idle to full power.
I did some minor work on the air inlets on the lower cowl.
I also worked on the brakes and after a taxy test it seems my rpoblem is solved.
Working time on this subpart
Today : 3h (Total : 114h)
Lectures (2980)