| | |
| --- | --- |
| Building log - Articles les plus récents | |
---
---
---
04-Oct-2009
Still working on the spinner installation. After having sprayed a coat of primer on the gap fillers, they were assembled and riveted to the rear plate. One rivet is missing as it was impossible to squeeze without removing the propeller, I will do it later.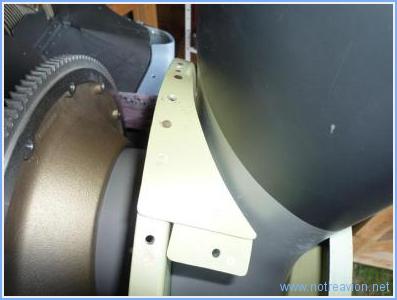 I then countersunk the holes on the spinner and tweaked the blades' openings. There are a few small gaps between the forward plate and the spinner, I use some proseal to fill them and have the spinner tight on the plate. To avoid having the proseal stick to the plate it is wrapped in cellophane.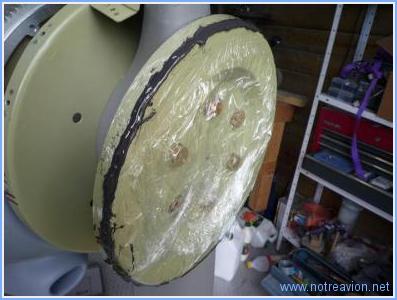 This shows the screw holding the spinner to the filler gap.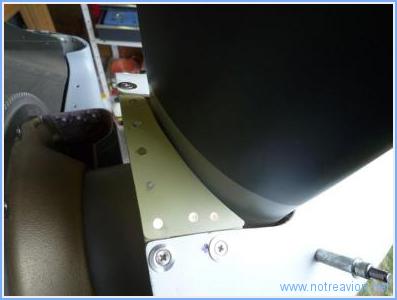 This is a global view, I'm now waiting for the proseal to cure.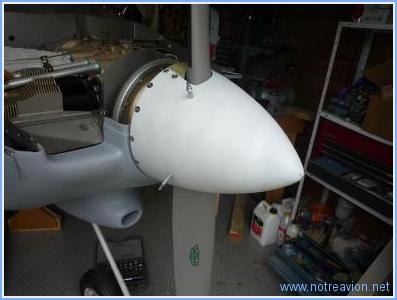 Working time on this subpart
Today : 2h (Total : 11h)
Lectures (1412)
02-Oct-2009
Before drilling the spinner to final size, I want to make sure it is still turning true, I want also check the gap with the cowling that was set a long time ago. So I install the cowls, the propeller and the spinner. Everything looks good.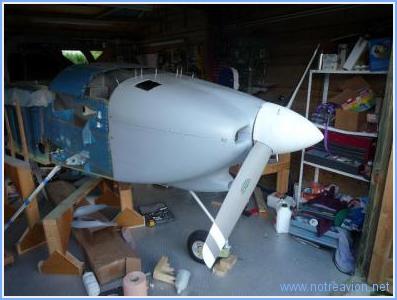 So to next phase, which is drilling the spinner and the gap fillers. Then countersinking and deburring where it's required.
Before riveted some priming seems appropriate.
Working time on this subpart
Today : 2h (Total : 9h)
Lectures (1287)
30-Sep-2009
Some more work on the spinner gap fillers. I drill the small bracket and the drill the assmbly to the rear spinner plate.
I then drill the hole for the screw.
All the holes have been drilled undersize as I want to recheck the spinner position before drilling to final size.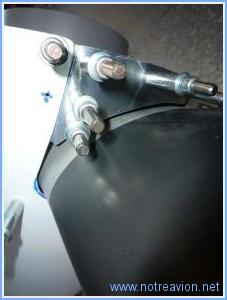 These are the two gap fillers. And I have a small problem, the holes not far enough from the edges to install the nutplate. I will use the hole for one of the nutplate's rivet and drill a new hole for the screw. And the hole in the spinner will have to be filled.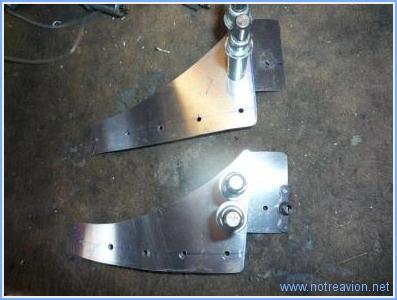 Working time on this subpart
Today : 1h (Total : 7h)
Lectures (1339)
29-Sep-2009
As the spinner has been cut out for the propeller blades, a small gap filler has to be fabricated to fill the gap behind the blade. The picture shows the gap filler in position.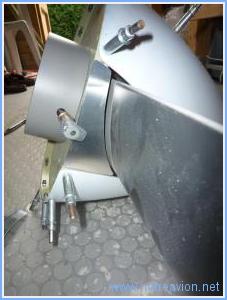 On the longer side of the filler, a small bracket will be riveted that will also hold a nutplate so that the spinner can be screwed to the bracket.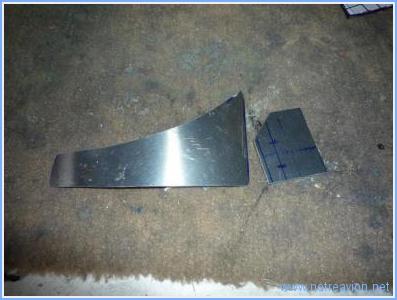 Working time on this subpart
Today : 1h (Total : 6h)
Lectures (1181)
24-Sep-2009
The session was almost entirely devoted to the nutplates installation on the rear plate.
We had to drill for the srew hole, drill for the rivets, countersink the rivet holes, deburr the holes, paint a fine layer of primer and rivet the nutplates. Some small sidetasks got also completed.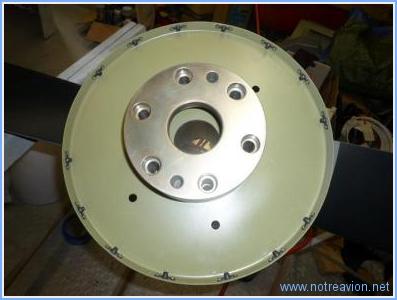 Working time on this subpart
Today : 2h (Total : 5h)
Lectures (1201)