| | |
| --- | --- |
| Building log - Articles les plus récents | |
---
---
---
19-Jun-2007
During the wing construction I had noticed a small gap between the fuel tanks and the leading edge. A both tanks are now off the spar I tackled this small problem by insterting a small shim after having drilled out one rivet. We'll see how it looks after the tanks are reinstalled.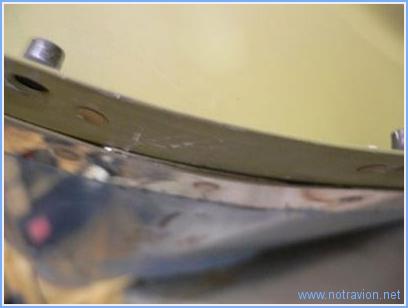 Working time on this subpart
Today : 2h (Total : 39h)
Lectures (3252)
18-Jun-2007
First I finish the installation of the AoA. I wanted a system to guide the drain stick. For this I use a nylon tube, inside I prosealead 2" of delrin rod with a hole in the center. The whole thing is then screwed to the lower skin via a delrin base. All the parts are now screwed on and the sealing done with proseal. Here is the picture of the installation.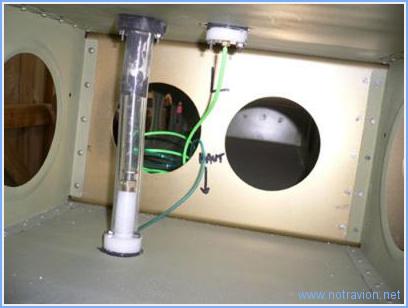 Then I tackled the right wing landing light, as it's the seconf light installation it went smoothly.
I then dismounted the left fuel tank, I have to prime the exterior and wire the gauge.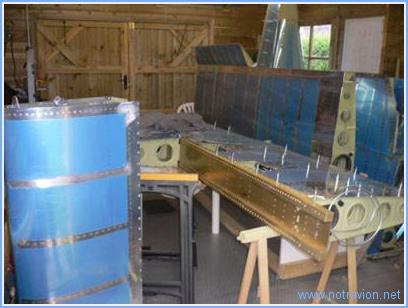 Working time on this subpart
Today : 5h (Total : 37h)
Lectures (3265)
16-Jun-2007
Only a small working session. First I install the nav light supply on the outer rib.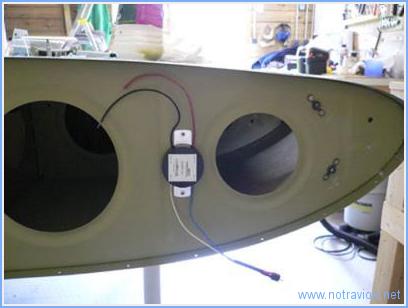 Then I begin isntalling the angle of attack sensors. I decided to install a
AFS
AOASport. The upper and lower wing skins are drilled so as to sense the local pressure, the some supports are installed to allow for the fitting of tubing to get the pressures to the calculator. The lower wing gets also drilled to be able to insert a small stick to drain the upper port.
On the picture (lower skin at the top), you can see both ports and the little stick. I still have to seal everything, install the tubing and find an any to built some kind og guide for the draining stick.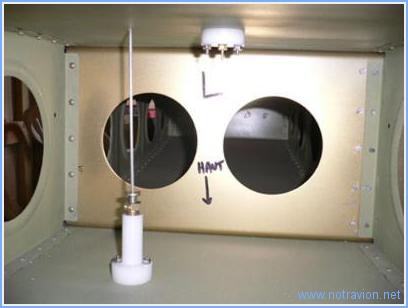 Working time on this subpart
Today : 1h (Total : 32h)
Lectures (3413)
15-Jun-2007
After having reorganized the workshop, I tackled the installation of the left landing light. I just followed Duckworks' instruction exception for the dimpling size. So after having cut the lens and adpated it to the cutout, here is the result.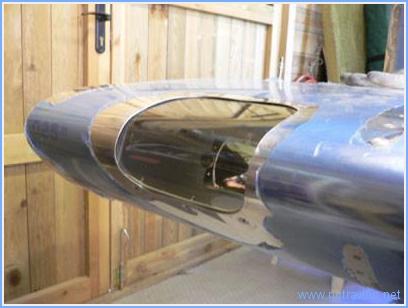 And after connecting the wires to 12V supply.
Working time on this subpart
Today : 2h (Total : 31h)
Lectures (3169)
02-Dec-2006