Passengers : Sunny sunday
le 07-10-2012 19:30:00

(

2087 lectures

)
Today we had an unexpected sunny Sunday. We went to the hanagr so Sabine and friends Dominique and Jean-Pierre could admire the new paint. I then flew two times.
First with Dominique, she seems happy to be back on earth.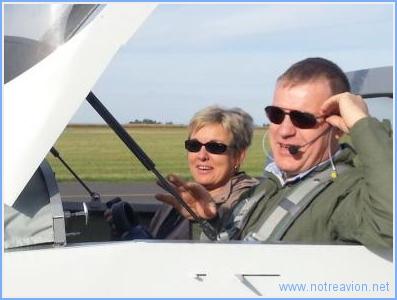 The second flight with Jean-Pierre, he helped a few times during the building. He was there to hang the engine and also to help for the move to the airport.
Cross-country : Back in the nest
le 05-10-2012 20:27:01

(

2156 lectures

)
After some adventures, the plane is back in the hangar at Nangis. First I almost missed my plane to Perpignan due to traffic jams. And then, the only place in France where the weather was not sunny was Lézignan. I waited for the fog to clear up and flew due east for a few miles before beaing able to turn north and reach Nangis after a 2h20mn flight.
This is the city of Clermont-Ferrand.
And to the west of the city the Puy de Dôme summit.
Other flights : Positionning for painting
le 01-09-2012 14:00:00

(

2581 lectures

)
Yesterday I flew the plane to Lezignan to were it will be painted. At first it looked as if the direct fly would not be possible due to the weather, but it was possible with some slight deviation and getting over some cloud layers. This is picyure taken abeam Clermont-Ferrand.
This is a picture of the main EFIS. I fly at 9500ft, indicated airspeed is 129kts, true air speed is 149kts and ground speed 178kts. Total flight time today was 2h01mn for 326 NM.
Once at Lezignan with help from Bruno, a friend living in nearby Perpignan, we removed all the covers and moving parts. Seems we are a few month back.
Some parts that were taken off the plane.
A few ideas about the paint scheme. Final result in 3 weeks.
Passengers : Some more passengers
le 25-08-2012 14:30:00

(

2176 lectures

)
Rachel my sister and family are visiting. All could not fly during our stay in Alsace, so the unlucky one's flew today.
First one was Rachel.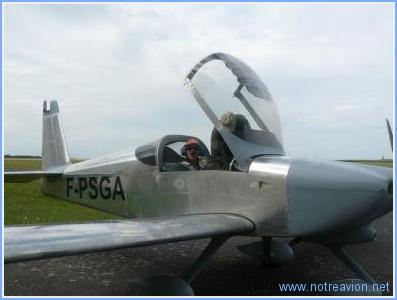 Her flight on Google Earth. To see the goal of our fly, zoom on the western part of the track, we also had a great view of the Blandy les Tours castle.
Then my niece Mylène, we flew south of the filed over the Seine river.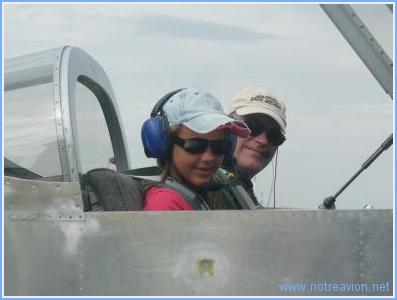 Last one was my brother in law Philippe. No picture as the photographers were gone shopping as we had to wait for as shower to clear.
Cross-country : Alsace
le 13-07-2012 08:30:00

(

2541 lectures

)
This week we fly to our home region, Alsace the most eastern part of France. In 1h20mn we reach Mulhouse-Habsheim overflying area we often cross on the roads.
This is Troyes.
Then Langres.
My mother's home village Burnhaupt-le-Bas.
And Mulhouse.
After the arrival, first flight for my Dad. He was a great helper during building as we riveted the wings and fuselage together.
The next day, despite windy weather I got a few passengers. First Tom, it was his first flight ever.
Then my nice Pauline.
My nephew Benjamin was a bit reluctant, but we got to fly a few minutes.
And another niece, Estelle.
We are now ready to fly back under an overcast.
Some rain as we fly north of Belfort.
We then overfly the Orient Lake near Troyes. The Seine reservoir seems to have been filled up by the recent rains.
The we had to zigzag a bit to avoid a few rainshowers.