Fly-ins : BIA
le 22-03-2014 18:30:00

(

1759 lectures

)
Le BIA c'est le Brevet d'Initiation à l'Aéronautique, une formation qui s'adresse aux collégiens et lycéens.
Evelyne, une amie de longue date dispense cette formation à l'Aéro-Club de Creil-Senlis.
Elle ma demandé de venir montrer le F-PSGA a ses élèves pour proposer une vision différente de l'aviation.
Pour moi c'était également l'occasion de me poser sur un terrain normalement interdit puisqu'il sert de base aux appareils chargés de la Défense Aérienne en région parisienne.
Nous avons naturellement fait le tour de l'avion, discuté des choix, des techniques, des difficultés, du prix de ce type de projet.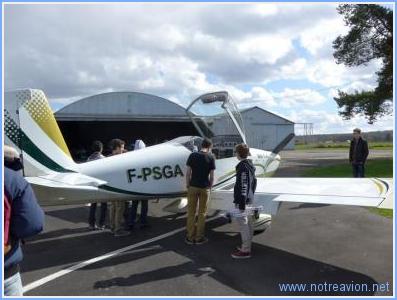 J'ai également présenté un petit diaporama sur la construction.
Fly-ins : Fly-in Van's Club de France
le 15-06-2013 13:40:00

(

1626 lectures

)
Saturday was the annual Van's Club de France fly-in. The airfield where it had to be was Vannes (ICAO : LFRV).
We departed from Nangis in the morning with Timothé who is building a RV-7 with his father Benoit. Some light to moderate chops in a 20kts headwind made for a 1h50mn flight.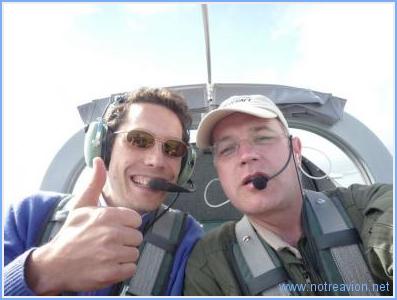 This is part of the Van's parking area.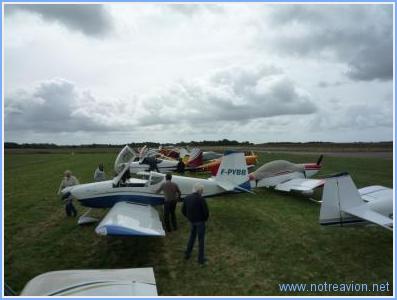 Some chats with builders at various stages of building and a great meal made the time seem very short.
After having overflown the Gulf o Morbihan, we heade back to Nangis climbing to FL 75 to take advantage of the tail wind. After 1h35mn we settled down at home base.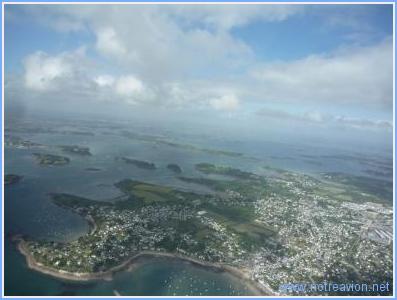 Fly-ins : Back to basics
le 08-06-2013 19:20:00

(

1459 lectures

)
Today we were at the Air France fly-in at Saint-Yan.This is the airfiel wre I began my pilot instruction. A familiar sight at flight return.
I hav a few flight hours on the Nord 262 NS.
On the ground and in the air there were some stunning planes. I think in total 80 planes attended.
Queuing up for departure before the storm.
So today we flew for 2h26mn, saw a very nice airshow and got some sunburn despite UV protection.
Fly-ins : Small fly-in
le 11-05-2013 20:10:00

(

1765 lectures

)
This saturday, we held a small fly-in at Nangis with three local and four visiting RVs.
We had 4 RV-8, 2 RV-7 and 1 RV-7A. Talks were animated especially for those still building.
2 RV-8, one Saphir and one Pipistrelle Virus, the two latter belonging to two builders.
2 RV-8, 1 RV-7 and 1 RV-7A, there is one RV-7 missing.